Best Gutter Guard Installation
Take the stress out of clambering your roofs to clean the clogged gutters. Get gutter leaf guards and protect the gutters from unwanted debris, birds, pests, leaves and other blocking agents.
The Gutter Man is one of the leading gutter protection system installation companies in Melbourne. We provide high-quality, professional, and durable guttering solutions to enhance the value of your property.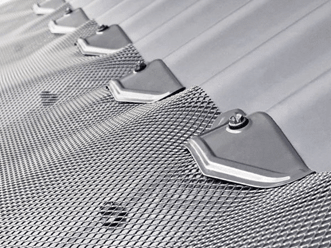 Living in Melbourne we tend to have extreme weather conditions and for this reason, your guttering is extremely important. If you don't have the time or ability for regular gutter maintenance, Gutter Guard is a great solution.
Whether your home is surrounded by trees or not, blocked gutters and downpipes are a problem that can be easily avoided with Gutter Guard. Gutter Guard Cover is a durable mesh system that can be fitted to practically any roof or gutter to prevent leaves, dirt build-up and debris from entering your gutters and downpipes, causing blockages and water overflow.
With over 10 years' experience in the guttering industry, we can plan and deliver the perfect gutter protection system unique to you! We are Proud Partners with the Leading Gutter Guard Providers in Melbourne, And Only Install What We Feel Are The Best Products in the Industry. Contact us to arrange a qualified tradesman to inspect your property, discuss your needs and obtain an obligation-free quote
REASONS TO INSTALL A GUTTER GUARD
Eliminates leaf and debris in your gutters

Maximizes water flow and quality of water.

Extends the life of your gutters and downpipes.

Reduces fire risk.

No more dangerous 'gutter cleaning'.
Why Hire The Gutter Man for Gutter Protection Service
| | | |
| --- | --- | --- |
| | | |
| We offer up to 25 years of warranty on all our gutter guard covers. Your investment is safe with us. | Our trained professional gutter protection system installers perform everything with perfection and leave you with zero complaints. | Our gutter guards installation is customised as per your requirements. We work with homeowners, real estate agents, builders, and business owners. |
Frequently Asked Questions
Q1. Can I install the gutter guard myself or do I need a professional?
Ans. Yes, you can definitely install it yourself. Our gutter guard protection system comes with an installation manual. It has detailed information about all the materials and instructions about fitting and installing the gutter protector. You can also contact our professional installers in Melbourne to prevent any mistake and save your time.
Q2. Do you offer any product warranty?
Ans. At The Gutter Man, we provide a 25-year warranty on all of its Colorbond Steel and stainless steel gutter guard products for roofs. We also provide a 10-year warranty for aluminium materials. So, you never have to worry about the quality of our products.
Q3. Do you manufacture the entire gutter guards range?
Ans. No, all our products are manufactured by the leading gutter guard providers in Melbourne. We have long partnership with them to satisfy market needs.
Q4. What's the need to install a gutter guard?
Ans. Gutter guards helps in many ways, such as
1. Improve the appearance and condition of your home
2. Protect your gutters from leaves, birds, pests, and insects that might enter through the gutter and damage your roof
3. Avoid climbing up your roof every time you need to clear the gutters
4. Prevent water clogging with debris or leaves and improve the water outflow.
5. Save money by not calling professional gutter cleaners
Q5. Which gutter guard is right for my house?
Ans. There are three major types of gutter guards in Melbourne, Australia made of
1. Plastic
2. Aluminum
3. Steel
In Australian weather conditions, it is recommended to either get stainless steel or aluminium guards. Plastic guards are not successful because they expand and contract which causes them to break and have bubbles. These are highly flammable and need replacement every 5-6 years.
Australian-qualified stainless steel is the best as it is rust-resistant and remains for a long time.
With over 10 years' experience in the guttering industry, we can plan and deliver the perfect gutter protection system unique to you! We are Proud Partners with the Leading Gutter Guard Providers in Melbourne.